The IRS warns that tax scams, fraud and outright cheating could make tax season a lot less enjoyable than it already is if you get caught.
We all know that each year the tax man cometh and that paying our fair share of taxes is something we cannot legally avoid. Or do we?
Unfortunately there are people are so caught up in trying to figure out a way to get a larger refund or pay less tax that they easily fall prey to unscrupulous tax preparers, identity theft, email phishing schemes, and less-than-helpful credit counselors. Those are just a few. Lets not forget classic tax fraud schemes like dubious offshore transactions, trust schemes and plain old lying about how much you made last year. There are countless ways to wind up in hot water over your taxes if the IRS catches you.
If someone tells you that they can eliminate your taxes completely you should be especially skeptical. There is no silver bullet for taxes. We all have to pay them. But because people will do almost anything to avoid paying taxes they make themselves easy prey for con artists that are ready, willing and able to capitalize on taxpayer angst. Do you know how to tell a legitimate tax deduction from a fraudulent claim?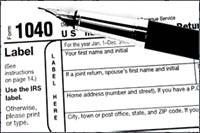 Pay them now or pay them later
So what happens when you get caught up in one of the scams to lower your tax bill? First of all you are out the money you paid for your service and on top of that you will have to pay some pretty hefty penalties and the interest owed on past tax bills can set you back quite a bit. It doesn't matter that you were the victim of a con you will still owe your tax debt to the IRS. If you knowingly participate in a tax scam you could even face jail time.
So while we all hate paying taxes and want to pay as little as possible, don't fall for any of these schemes. You'll end up paying your taxes in the end. You can either pay them now and avoid jail, fines and the interest on your original tax bill or you can pay them later plus interest, fines and possibly enjoy a vacation at a federal resort. We also urge you to remember the Golden Rule: If something seems too good to be true then it probably is.
How to Report Suspected Tax Fraud Activity
The following two paragraphs come directly from the IRS website, www.irs.gov. We recommend reviewing their site for further detailed information regarding tax fraud.
Suspected tax fraud can be reported to the IRS using IRS Form 3949-A, Information Referral. Form 3949-A is available for download from the IRS Web site at IRS.gov, or through the U.S. Mail by calling 1-800-829-3676. The completed form or a letter detailing the alleged fraudulent activity should be addressed to the Internal Revenue Service, Fresno, CA 93888.
The mailing should include specific information about who is being reported, the activity being reported, how the activity became known, when the alleged violation took place, the amount of money involved and any other information that might be helpful in an investigation. The person filing the report is not required to self-identify, although it is helpful to do so. The identity of the person filing the report can be kept confidential. The person may also be entitled to a reward."