Even though the use of personal checks has declined in recent years, check fraud has grown causing more merchant than ever to reject them as a payment method.
Checks are no longer the primary payment method. Americans are now using electronic payment methods such as credit or debit cards, bank draft and online banking, more than the traditional check. Despite the growing use of other payment options, millions of Americans still rely on personal checks to pay their bills.
New laws have helped banks combat check fraud. An example is Check 21, which allows banks to provide consumers with electronic images of checks rather than send them back to you in their original paper form. It would seem that the new measures would help mitigate the occurrence of check fraud, but the problem continues to grow. In fact, the problem is so bad that merchants and financial institutions lose about $25 billion per year to check fraud.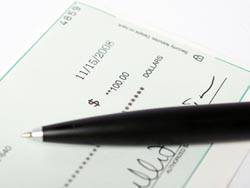 Tips to avoid check fraud
There is no way to stamp out check fraud completely, but there are some things you can do to reduce fraud:
Balance your check book on a monthly basis. If you are able to access your account online, check transactions routinely to make sure that no fraudulent transactions have taken place.
Report lost or stolen checks and lost or stolen debit cards immediately. When you order new checks, make sure that you receive the full shipment. The box that the checks come in should have the original plastic wrap used by the bank for shipping.
If possible, use a locking mailbox, or have mail sent to a post office box. Bank statements usually come in an envelope with your banks logo on it, making it easy for thieves to identify potential theft opportunities. Make sure that you empty your mailbox daily. When you send payments for bills, drop the envelopes in a secure mailbox.
Shred any documents relating to your bank account (or any other financial information) as soon as it is no longer needed. If you need the information for other purposes, store it in a secure location.
If possible, make your payments electronically rather than through the mail. Most banks offer free online banking. If you access your account online, make sure that you follow sound internet security practices, especially regarding your password.
Credit cards limit your liability for fraud to $50. Consider making any store purchases with a credit card. This will also enable you to leave your checkbook at home, which means you probably won't lose it.
Thieves are already brazen enough when it comes to committing acts of fraud. Don't make it easy for them to ply their trade.