Paying for referrals makes auto related services more expensive when business owners raise rates to cover this hidden fee which leads to higher car insurance premiums.
As the holder of an auto insurance policy, you share something special with every other policy holder – when one of you becomes the victim of an auto insurance scam, everyone's premium goes up. That's why it's important to be aware of some of the tricks used by scammers to defraud the insurance industry. By being an informed consumer, you are better prepared thwart these kinds of scams and help keep everyone's insurance premium down.
How Auto Insurance Referral Scams Work
Auto insurance referral scams are not hard to explain. It's one of the oldest tricks in the book. It involves one person offering to pay someone else money for every client referred to their business. For example, consider an attorney slipping a tow truck driver some extra cash for handing out business card s to accident victims. This practice is against the law! How about this one – what if a doctor paid the attorney for every accident victim referred to them for health care. This is also against the law.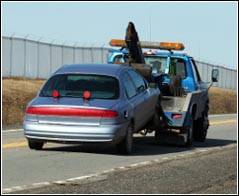 A common practice is for a tow truck driver to recommend a particular auto body or repair shop to an accident victim. Tow truck drivers that do this are called "chasers." In many states, making unsolicited recommendations is illegal. Chasers" are often on the payroll of the very repair shops they're recommending!
Many insurance companies don't like doing business with shops like these. And many of them don't. If the shop your vehicle was towed to appears on an auto insurer's "blacklist", you may have your vehicle towed to another shop. This could cost you quite a bit, since even a one block tow can cost nearly $100.
The final result of crooked merchants paying each other referral fees is that they all end up "padding" their fees to make up the loss. This means insurance companies wind up being billed more money than they should have, which leads to everyone paying higher auto insurance premiums. And that's why paying referral fees is a bad idea and is, in many cases, outlawed.
How to help in the fight against auto insurance scams
Be informed. Do some research and know your rights if you find yourself needing a tow, a doctor, or a lawyer.
Useful tips on avoiding insurance fraud:
Tow Truck Drivers
Check to make sure the tow truck and driver are licensed and can legally provide you with towing services.
Check for business affiliations with trusted names like the AAA or Better Business Bureau.
Ask about contracts with law enforcement. Do they have any?
Use your ears. Have they recommended a repair shop without you asking first? If a recommendation like that is made unsolicited, there's a decent chance he or she is being paid for client referrals.
If the tow truck driver asks you to sign forms, read them first.
If possible, have the tow truck driver take your car somewhere secured. Somewhere an auto insurance appraiser or adjuster can get to it.
Call your auto insurer before your car is taken anywhere, and ask them where your car should be towed for repairs.
Find out if your insurer has a relationship a repair shop near you. Some insurers prefer one shop over another several reasons. Sometimes it's because a shop has a reputation for honesty. Other shops are preferred because of the great work they do. Many insurers prefer shops with both qualities, because it's in everyone's best interest. Good, honest work keeps costs down and premiums low.
Whom To Contact if you suspect Auto Insurance Fraud
If you suspect fraudulent activity, please report it to your insurance company or to your state's Insurance Commissioner.
Attorneys
Make sure any attorney you are referred to is actually an attorney and licensed to practice law in your state.
Ask them up front what their rates are and what their plan is for your situation and how it will benefit you to use them.
Check with Your State's Bar Association for any negative reports against them.
Health Care Providers
Are they licensed to perform health care in your State?
What are their charges and will they accept payment from your auto and health insurance companies and not charge additional fees above that.
Check with your State's Medical Board for any reported malpractice.