Auto repair complaints make up the largest group of consumer grievances. Many of these involve car repair scams.
Auto repair problems make up the largest group of consumer complaints. The National Highway Traffic Safety Administration estimates that consumers lose tens of billions of dollars each year due to faulty or unnecessary car repairs.
While most repair shops are honest, undercover car repair stings find dishonest auto mechanics and shops in most areas of the country.
It's very easy for an unethical mechanic to convince car owners that unnecessary repairs are needed because the average person doesn't know much about their cars. People often have no idea they've been ripped off.
This makes proving auto repair fraud difficult. Even those that suspect they've been scammed don't know what to do in order to make their case.
Below are some of the most common auto repair scams. Keep these in mind the next time you need to have your car worked on.
We finish with a list of tips that can reduce your chance of falling prey to a dishonest car mechanic or repair shop.
Highway Bandits
This is one of the oldest auto repair scams in existence. These "Highway bandits" own, or work for service stations. They prey on motorists who stop for gasoline or air or water. There are numerous ploys they attempt to separate the unsuspecting motorist from their money.
They've been known to spray oil or drip it under a vehicle then claim that it leaked from the traveler's car. They've punctured tires, cut water hoses, and fan belts so that the motorist will have to buy new ones.
These bandits focus on the danger the traveler faces if they drive off without making the repairs and often charge inflated prices.
Repair Estimate Scams
Consumers who don't get written repair estimates can suffer the consequences when they pick up their cars. This problem occurs when a shop provides a very reasonable quote when the car is dropped off, but at the end of the day, the consumer finds that the shop has raised the final bill considerably from the verbal quote.
This may seem to be perfectly legal; since many mechanics find additional problems with a vehicle once work begins. Shop owners and mechanics have been known to leave the estimated amounts blank when they ask customers to sign repair authorizations.
Later on they fill in an inflated amount or descriptions of problems after the consumer leaves the premises.
Maintenance Hook Schemes
Repair shops will advertise check-ups or preventive maintenance service at very reasonable rates. Unethical shops will use these maintenance specials to "hook" and deceive their customers.
A simple oil change and lubrication process can turn into expensive and unneeded repairs. Some mechanics will even cause damage during an inspection to enhance their income by "discovering" new car repair needs.
Intentional misrepresentation of repair needs
Modern automobiles are complex, highly technical machines. The average person has no idea how to repair or maintain their own vehicle. It's very easy for an unethical auto shop or mechanic to deceive the average consumer.
This makes it very hard for the vehicle owner to make decisions on whether the repair is needed. Beware the mechanic who seems a little too pat at explaining the particular problem with your car and always consider a second opinion and definitely get an estimate of costs before authorizing the repairs.
Part replacement problems
A lot dishonest mechanics have charged customers for parts that weren't used. In addition, the mechanic will charge you for the labor required to install the non-existent replacement. It's a double rip-off! The old used part switcheroo is another common cart part related scam.
Used parts are a viable option for many repairs, however, some mechanics charge customers for new, premium parts after installing sub-standard or used car parts. Always ask for your old, damaged part back after it's been replaced. It helps keep your mechanic honest.
Counterfeit Car Parts
To save money, some unscrupulous repair shop owners cut costs by using counterfeit car parts instead of high-quality replacement parts. The difference in price can be significant but you won't see any of the savings. You'll be billed the full price for the parts and won't be told.
This practice can actually put you in danger because counterfeit auto parts are often of inferior quality. This can put you and your family at risk and you may never even know it. Besides being potentially unsafe, counterfeit parts generally wear out sooner than genuine parts.
Detecting counterfeit auto parts is difficult because the counterfeiters often duplicate trademarks or alter them so slightly that it takes an experienced eye to notice the difference. If you suspect that counterfeit car parts have been used in place of quality materials don't hesitate to file a report with your state's attorney general or local Better Business Bureau.
Bait and Switch Repair Scams
Many auto scams begin with an advertised price on a specific repair job that seems almost too good to be true. Once they have your car in the shop, they find other items that need repair as a way to expand the work order and inflate your invoice.
For instance, imagine you might see an advertisement for a great deal on a tune-up. So you take your car to the repair shop to take advantage of the special. Once there you're told, "You need this, this and this." This is very similar to a bait and switch scam.
The only difference here is that you'll probably receive the great deal on the tune-up. You could also pay $500 for repairs you hadn't anticipated or thought you needed.
A $699 car repair job can mushroom to almost $2,000 so fast it isn't funny. Your mechanic will find so many things wrong with your vehicle that you'd think it's beyond repair. This would be a great time to get a second opinion before authorizing repairs.
A few repair businesses charge customers for parts that don't even end up in your car. Other repair businesses complete the work but it's so shoddy, the customer has to bring the car back two or three times. To add to the insult you'll be asked to pay each time you bring your car back due to the repair shop's negligence.
If you believe you've been a victim of an auto repair rip-off, notify your state attorney general's office, local consumer protection agency and file a complaint with the Better Business Bureau. Don't let it go.
Collect all of the paperwork, receipts, work orders, written estimates and warranty information that you have from the repair shop you suspect of wrongdoing. The more evidence you have, the stronger your case will be.
Precautions to take when getting your car repaired
Ask for a written estimate before you authorize repairs. – Most states require a repair shop to give a written estimate when that estimate exceeds $100 and must contact you before exceeding the estimate by $10 or 10% whichever is greater.
Ask if repairs are guaranteed. – While you are at it get all guarantees in writing and insist on a shop honors its guarantees.
Perform a background check on the repair shop. – Check out a repair shop's history with the Better Business Bureau and make sure they are registered with the state before you take your car there. Your state government has records of car repair shops that have had complaints filed against them.
Don't get conned into paying for unnecesary repairs. – Don't tell a repair shop what repairs to make unless you are absolutely sure you need the repairs.
Get several estimates from different shops. – You may have to pay for the estimates but you could save yourself hundreds of dollars by shopping around for the best deal.
Look for a car repair shop with certified auto mechanics before you need one. – This way you aren't in a hurry and you can take the time to find an honest repair shop.
You can save money by asking for used parts. – But make sure to ask for your replaced parts (at least to see the parts).
Be certain the repair shop honors any existing warranty on your car. – If not, you may be paying for parts or labor covered by your manufacturers or extended warranty.
Is the repair shop unprofessional or messy? – Good repair shops are usually clean and organized and their staff behaves in a cordial and professional manner. Honest repair shops won't pressure you into making repairs and will answer any questions you may have and any requests for written estimates are cheerfully provided.
How to find a good auto repair shop or mechanic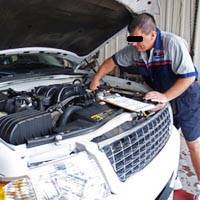 When your car needs servicing what influences your decision on which shop to take it to? There are many factors that you should keep in mind while making this decision.
Is your car under warranty?
If your car is still under warranty you may have no other option than a mechanic or an automotive service technician certified by the manufacturer make the needed repairs. This usually means you're going to have to take you car to a local dealership to have the work done.
This isn't always the case, however, and you might be able to take you car to any certified mechanic. Just make sure you've read and understand your warranty so that you follow the steps necessary for reimbursement.
Once your warranty expires there should be no restriction on where you take your car for servicing.
OK, so how do I find a good mechanic?
Finding a good, honest repair shop or service station near you shouldn't be too tough. Ask your family and friends for their recommendation. The Better Business Bureau is another great resource when you try to find a reliable repair shop.
You can also search the web for both recommendations and warnings. Do some research even if your car needs nothing more than routine maintenance. None of this will help you, however, if you break down in the middle of nowhere and there's only one repair shop. To help avoid this scenario, do a visual inspection of your engine before you leave for a long car trip.
If you see any potential issues like a worn belt or heavily corroded battery cables, have some preventative maintenance done. If you do strike out and find yourself at the mercy of the only mechanic in town, good luck to you and make sure you get receipts and keep them for your records.
If your vehicle requires specialized work, make sure the people doing the repairs are qualified and that they have the necessary equipment. Modern vehicles have needs older cars do not. Their internal computer control systems interface can aid in the diagnosis of many issues, but if equipment isn't on hand or the mechanics aren't trained to use it you could pay unnecessary diagnostic fees.
Always get a second opinion
Even if you find a repair shop that's highly recommended, take the time to get a second opinion before authorizing them to make expensive repairs. It may seem like a hassle but if you can still drive your vehicle you may be able to save yourself a bundle.
Prices vary for the same service. You may even find out that your car doesn't need to repairs you were told it did. If the second shop finds more problems than the first one ask them to explain why their diagnosis is different. I'd also consider getting a third opinion.
Keep a Vehicle Repair Log
Why should you keep a repair log? Keeping a vehicle repair log is a great way to show how your car, truck, motorcycle, or recreation vehicle has been maintained. If you include receipts, work orders, and invoices you can easily prove to someone what work has been done and when.
Such a record of maintenance and repairs can add value to your vehicle and make it a lot easier to sell.
Proof of Repairs and Maintenance
If your car turns out to be a lemon you'll be asked to provide proof of repair attempts and the number of days its been out of service. The repair log, if maintained correctly, will have records of the dates, mileage, and the issue needing correcting each time the vehicle was taken to the dealership.
If the dealer failed to fix the problem, the repair log will indicate it clearly and strengthen your case. If you end up in arbitration or have to sue the dealer, a well-kept repair log can prove to the court how well you took care of your car. A repair log allows a judge, arbitrator, or manufacturer to quickly review your case.
Think of how long it might take to pour over notes, invoices, receipts, work orders and other records presented in a big unsorted pile. Depending on the number of records, it could take days to wade through!
The Repair Log is a Summary of your Vehicle's Repairs and Maintenance. Besides protecting you in Lemon Law arbitration, it allows you to quickly see the last time your vehicle had an oil change, brake job, or any other regularly scheduled maintenance procedure.
Download a Repair Log Template
Car Lemon Vehicle Repair Log – PDF (Click to view, right click to save).
Repair Log Instructions
Vehicle – This identifies the vehicle this log applies to. Example: Toyota Prius, Honda Civic, Ford F150 etc.
Date – Purchase date of the vehicle
Mileage – Enter the mileage of the vehicle when you took possession of it.
Repair Attempt Records
Date and Mileage when you the vehicle went in for repairs.
Date and Mileage when the vehicle was picked up. Note, the Date should reflect when the repairs were completed. It could be different than the date you picked the vehicle up! The Mileage should reflect the mileage read directly off the odometer.
Dealer or Repair Shop where you took your vehicle for repairs. For Warranty Repairs, you are required to take your vehicle to an Authorized Repair facility.
Repair Order Number. You'll find this printed on the repair order or work order. Don't drive off without this vital piece of information!
Service Requested / Description of Problems. You can write in as much or as little here as you want. "Tires Rotated" or "Oil Changed" is fine for routine maintenance, but describe major issues in detail. If you're taking your car in to have a repeat problem addressed, make sure your description is IDENTICAL each time it's taken in to be repaired. The reason for this is so you're protected under the lemon law. Your description of the vehicle's problem must be on the repair order / work order. Don't sign repair orders or leave your car at the dealership unless the problem is entered into the repair order / work order.
Work Performed. When you arrive at the dealership to pick your car up, they should hand you an invoice detailing all work and repairs performed. Copy this down in your repair log. If the dealership won't give you an invoice for any reason, make a note of it.
Charge. Enter any out-of-pocket expenses here. Examples include: towing, gas, hotel, food, or repair fees if you're asked to pay. Attach copies of all invoices and receipts to the repair log. Create a number for the repair log entry and write it on the invoices and receipts to aid future referencing.
Work Requested / Work Performed
Remember to describe repeat problems exactly the same each time you take your vehicle in for servicing. Don't forget to have your description added to the repair order / work order.
In order to be protected under lemon laws, you're required to describe unrepaired defects exactly the same every time your car is taken in for servicing. Repairs covered by warranty are required to be made at authorized repair facilities.
When picking your car up at the dealership or authorized repair facility, make sure they give you an invoice for indicating the work performed. The dealership may say there's no invoice because there's no charge for the repairs.
You have every right to a record of the work performed on your car and you shouldn't leave the dealership until they produce an invoice for you with the information you asked for on it.
Was your car's problem fixed or was it unresolved – meaning the dealership service center couldn't duplicate or find the cause of it? What did they fix (or fail to fix)? Base this on the original reason you took your car in for repairs.
Lemon Law Protection
To be protected under the lemon law, it's vital you write down whether or not the dealership or service center was able to correct your vehicle's problem. The invoice might show the problem was fixed to your satisfaction but after you drive away the problem could return.
If so, and you return to the service center, it's considered a second repair attempt for the same defect. When you take the vehicle in to have it repaired (again), create a new repair log entry.