Many people have reported receiving postcards alerting them their car warranties are about to expire with a toll-free number they can call for information
Have you noticed a surge in car warranty offers in the mail? You're not alone. Many people have reported receiving postcards alerting them to the fact that their car warranties are about to expire.
The directions state that if your waranty is about to expire, you should call the toll-free phone number on the card for more information on extending or renewing your vehicle's warranty. If you've considered taking them up on the offer think again. Many of these warranty offers are nothing but scams.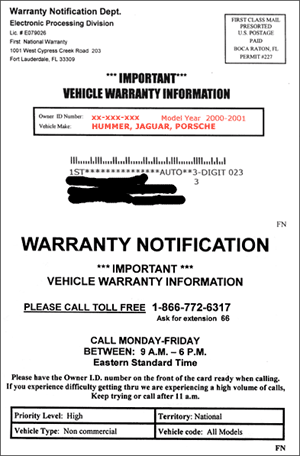 What the Warranty Expiration Warnings Look Like
The waranty expiration postcards have phrases like "Final Notice," "Motor Vehicle Notification," and "Priority Level: High" in large bold, letters intended to create a sense of urgency. There will also be a toll-free number you can call for more information on renewing or extending your car warranty. If you make the phone call, be prepared for high-pressure sales tactics. These extended warranties are expensive and the salesperson can make a lot of money for each sold. Many people have been told that a down payment must be made before they can be given information about the warranty. How messed up is that?
Phone Warranty Expiration Warnings
These car warranty expiration warnings sometimes take the form of urgent phone calls designed to frighten you into taking immediate action.Seniors are often the target of these warranty scams. They're flooded with these warranty expiration warning postcards and bjected to high-pressure sales tactics.that succeed all to often.