Credit Fraud and Identity Theft can happen almost anytime or anywhere to the unwary consumer
ID theft is at an all time high and many forgers find it easy pickings in the United States in obtaining the information they want. Forgers will fake personal documents for numerous purposes, some of which include: defrauding businesses and consumers, hiding citizenship and/or employment status, committing violent crimes or terrorist activities. However, the most common crimes committed by forgers are robbing non-voided checks and/or credit card documents from dumpsters, garbage cans and mailboxes.
Costing consumers over a billion dollars each year, forgery of credit cards has become the most widespread of all credit fraud and identity theft crimes. Much energy goes into making bogus identification that matches stolen credit card numbers, however, with today's technology driven society the criminals have unprecedented access to our most personal of personally identifiable information.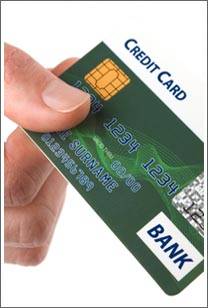 In addition to forging credit cards, bogus identification can also be used to submit an application for credit at stores or to buy new and used vehicles. The typical forger relies on the feeling of pressure from long lines to easily hurry salesclerks into taking their fake identification. They also rely on under training and youth and are usually very good at what they do to distract workers at the checkout counters.
The success of all of this credit fraud results in increased costs for all of us. Criminals can be foiled though, be sure to shred the following items prior to throwing them into the recycling bin: unused and/or cancelled checks, deposit slips, identification papers, any personally identifying information, credit card statements, and any other significant documents.
Forms of Credit Fraud
In addition to the most obvious form of credit fraud, theft, there are several other types that can occur:
You may be talked into completing an application for credit by your boyfriend, girlfriend or friend, only to be left responsible for their charges after they've terminated their relationship with you. This is very common and one of the most deliberate types of credit theft.
Employees can take the imprint of your credit card and use it to cover their own purchases from the store or increase their tip in the case of a restaurant server.
Someone you know may ask to use your credit card for a particular purchase agreed upon by the two of you. Then take that card and make more purchases beyond what was originally agreed to.
Retail establishments on the internet have been known to repeat or increase credit charges beyond what the customer's original transaction was.
Using anonymous email providers, which protects them from prosecution, youths use stolen or traded credit card numbers to buy on-line products and/or services.
In big counterfeit outfits they take credit card "blanks" and imprint real credit card numbers and names to them.
Discarded credit card billing statements and/or receipts can be used by identity thieves for making illegal charges to your card. These charges may include: purchases from catalogs and/or websites, long distance calls, phone-sex charges, and others.
Promises of prizes or free vacations have been knows to separate people from their most private information, including credit card numbers. Beware any company that offers anything for free and then asks for your credit card to "confirm", "hold" or pay for a "small handling fee".
Tips to protecting your identification and credit
Below we've put together a few tips to help you to protect yourself against consumer credit fraud. Anyone permitted to use your accounts should also review these tips:
Shred all pre-approved credit offers received that you don't want to take advantage of.
Never record your Social Security number on checks given to companies.
When signing credit card receipts, draw a line through the blank space above the place where totals are to be recorded.
Steer clear of signing a blank credit card receipt, whenever viable.
Keep only the cards you use on your person and never keep them in your wallet, use a separate holder for them.
If you're purchasing from a business for the first time and have any doubts about them, verify their reputation with the Better Business Bureau or your local consumer protection office prior to making the purchase.
In a secure place, like a locked file cabinet, keep records of all your credit card numbers, their expiration dates, and the contact information for each issuing company.
After presenting your card to a clerk, be sure to have it in plain view. Question the clerk if they move the card to a hidden location.
Unless you're directly related to the person completing an application for credit, never cosign or complete an application for someone else's use.
Always file your credit cards, receipts, billing statements, or credit applications in a secure place (i.e. a locked file cabinet).
Never let somebody borrow a credit card unless they're an authorized user on your account.
Never write your card number on the outside of an envelope or a postcard.
If online access is available from your credit card company, sign up for it and review charges on a regular basis. If online access isn't available, review each monthly billing statement without delay and reconcile your charges (like you do with your checking and savings accounts).
When moving, inform your credit card companies and all other financial organizations in advance as well as through your local U.S. Post Office.
Never, ever provide your credit card number over the phone unless you've initiated the transaction with a well known, reputable business.
If you see a charge that's questionable, immediately report it to the card issuer.
To look for any unauthorized use of your identity, request a free credit report from all three credit reporting agencies. They are required to provide a free credit report once each calendar year.
Take back your card quickly after using it for purchases.
Match up all credit card receipts to your billing statements each month.
As soon as new or replacement credit cards arrive, sign them.
When using your credit cards in public, shield them from other people's sight.
If you suspect your mailbox isn't secure, purchase and use a U.S. Post Office Box.
When mailing payments in to a financial institution, take care to use their post office box.